You know what I'm most interested in?
I don't know either.
Here are some things that were interesting on Saturday, May 14.
Fancy dress shop. In the U.S., they're costumes, and they're usually only available at Halloween, or are for rent for a lot of money. Some of these were for rent, most were for sale, but never, ever had I seen an adult costume for a Christmas Cracker.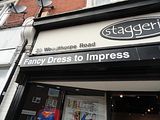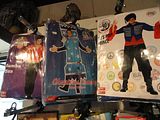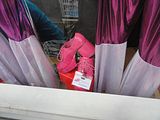 In the market stalls in Staines, there was a woman named Lindy with fascinators she had made. Julie bought a black feathery one with a flower, for a wedding she's attending soon. Lindy's husband bragged her up hugely, and the art was really good, too. The prices are from £15 to £45. Julie's cost £20. The couple have an American Cadillac and go to car shows and jitterbug gatherings. The husband had a South Dakota sweatshirt on.
Inside Waitrose, some interesting groceries:
Outside, some rides: